David Holgate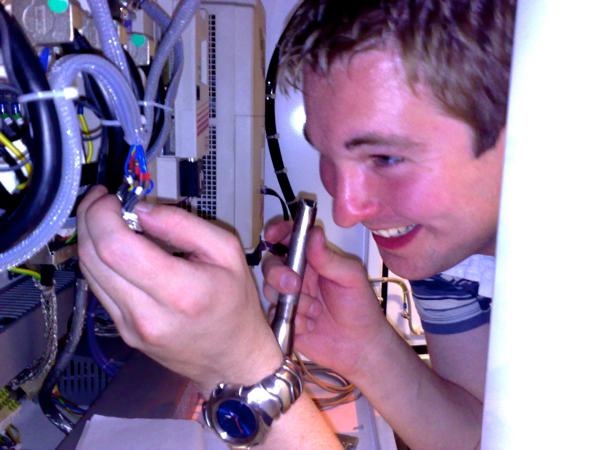 I started work at the tender age of sixteen in a modern apprenticeship in Electrical and Electronic Engineering. I learnt the basics in electrical installation work, working on large plant machinery consisting of Cement works and Steel works, dealing with distribution boards and HV systems.
As a second year apprentice I decided to enter into the more technical side of the industry, this meant I needed to change companies. Having secured a new job with a systems integrator & panel builder I began to build towards the software development and control system design, however keeping myself involved in general site maintenance, electrical installations and basic machine automation.
After finishing my modern apprenticeship I supervised five to ten people on various electrical installations/project management and machine automation works around the world. Areas of the industry I have worked in consist of the Automotive Industry, Food Industry, Can Manufacturing Industry, Packaging Industry, Medical Industry and Paper Industry.
I have worked in the software and design aspect of the job for a number of years now within all the above industries, using AutoCAD for electrical design works and working with Siemens, Mitsubishi, Allen Bradley and Omron PLC systems, consisting of many types of VFD and Servo systems including Siemens, Allen Bradley, Control Techniques and Omron, utilizing the latest bus systems such as Profibus, Devicenet and Ethernet. My role has involved me carrying out the design of control systems, software development and commissioning of production line machinery around the world.
Travelling the world meant meeting many new faces and I was fortunate enough to meet my colleague. We decided to form PLC & Drives Company Ltd to bring our vast experiences in many industries together under one roof to provide an experienced service that we are proud of.
Experience
Project management


High speed packaging


Ovens & Dryer Systems


Rotary Printing Presses and web control


Convolute and spiral tube manufacture


Aerospace


Robotics / sequencing machines


Pick and place machinery


Bailing and scrap handling


Press control


Pump and Fan Systems


Industrial Ethernet


Eurotherm, West, and Honeywell Temperature and process controllers


Siemens S7, Rockwell Logix and

SLC

, Omron, Mitsubishi, Hitachi and Simatic TI PLC's


Siemens OP MP and TP, Rockwell PV and PV+, Omron HMI's


Siemens Micromaster,

ABB

ACS

, Rockwell, Omron/Yaskawa and Mitsubishi Inverter drives.